The VGM Group
Updated 8:49 AM CST, Fri November 12, 2021
Published Under: VGM News
At the Employee Owned 2021 national conference in Las Vegas, VGM won the AACE Award for COVID communications during the pandemic. Presented by the ESOP Association, this prestigious award recognizes the diligent work of our pandemic task force to keep our employee-owned company informed and safe. Tiffany Minkler, Mandi Joyner, and Jenna McKinley accepted the award for VGM.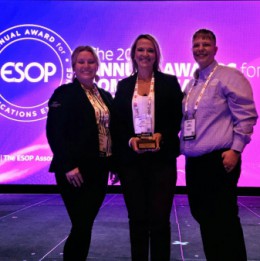 The ESOP Association Announces AACE Awards Winners
Annual Awards Honor Excellence in Communications Across the ESOP Community
Click here to read the complete press release.