VGM's Community Giving Committee awarded $45,000 to four area projects as part of its 2023 Be the Change campaign.
The announcement was made during a special check presentation held at VGM's headquarters in Waterloo, Iowa.
"The places we call home, the communities we all live in, while they vary greatly across Iowa and the country, are important to us and our families," stated Christa Miehe, president of Moxie and director of VGM's Community Giving Committee. "They are the places where we make memories, where we celebrate, and where we connect and build relationships. That's why for this year's Be the Change projects, we focused on supporting quality of life projects that improve or enhance the communities that VGM employee owners call home."
The VGM Community Giving Committee received more than 25 Be the Change project submissions and awarded a record amount of Be the Change funds. A total of $45,000 was distributed to four incredible projects!
Our 2023 Be the Change Partners are:
City of Jesup – Jesup Splash Pad
With the concept starting in 2019, the City of Jesup, Iowa (which is approximately 25 miles east of VGM's headquarters) aims to build an all-inclusive splash pad. This splash pad combines the sensations of water movement and water-based activities in a "zero-depth" safe zone. Currently, there is no all-inclusive play area in Jesup, and this splash pad would allow kids of all ages and abilities to have a little fun, and is a cost-effective alternative to an entire aquatic center or water park. With the splash pad being approved by the City of Jesup, the planned location will be at the existing Liberty Volunteer Park. Work for the all-inclusive splash pad, including on-site development, has already begun.
VGM's donation: $15,000
Visit their Facebook page to learn more here: https://www.facebook.com/jesupiasplashpad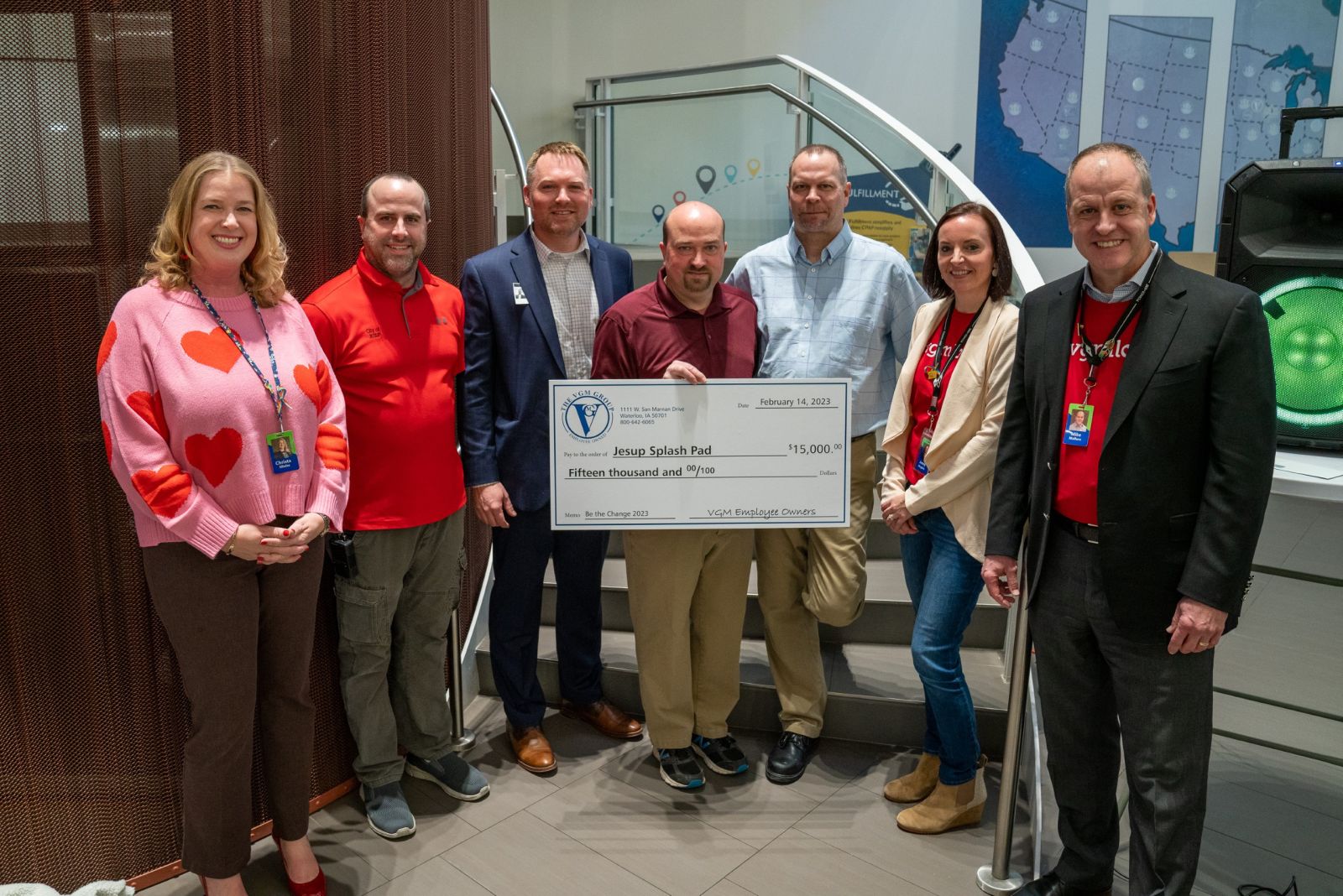 Cedar Valley Youth Sports (CVYS) – Deerwood Park Upgrades
CVYS is a nonprofit organization for youth sports whose member board is comprised of 11 parents and coaches. Their mission is to provide children in the Cedar Valley a place to learn sportsmanship, inclusion, and fun! Their Deerwood Park project (located in Evansdale, Iowa, which is approximately eight miles east of VGM's main campus) aims to completely upgrade nearly every aspect of the park. These upgrades include: complete repair of the baseball diamond, bleacher and seating replacements, concession stands, bathrooms, and dugouts. They are also aiming to purchase entirely new equipment to upkeep the field, as well as provide bats, balls, and other sports equipment so children of the Cedar Valley can continue participating in the sport that they love. This project was a fan favorite and received multiple nominations from employees.
VGM's donation: $15,000
Learn more about CVYS here: https://www.cvysports.org/
City of Des Moines Park and Recreation – Cohen Park Adaptive Equipment
Located just two blocks away from Two Rivers Marketing in Des Moines, Iowa, the Cohen Park Site Renovation program is looking to make a number of updates to the park to make use of the underutilized space. One of the main updates will be the addition of a bouldering equipment area to the park, making it the first in the state of Iowa. The bouldering equipment is a type of rock-climbing wall for park goers of all abilities to use, including an adaptive climbing setup for park visitors with physical impairments. Other proposed updates include: a half basketball court, an interactive ball wall called Sutu, and cultural and historical signage. And every donor will be included on a donor board!
VGM's donation: $10,000
Learn more here: https://www.dsm.city/business_detail_T6_R252.php
Fairbank Elementary – Every Child Plays
Every Child Plays is a project that was formed in the spring of 2022 by staff at Fairbank Elementary school (located in Fairbank, Iowa, approximately 30 miles northeast of VGM headquarters). Funding to the project will be utilized not just to replace incredibly outdated equipment, but will also be used to provide equipment that will be inclusive for children of any ability. Current equipment also prevents children from using them during certain times of the day. This project is looking to solve these issues. And not only will the new equipment benefit children attending Fairbank elementary, but also children and families who visit the community. Every Child Plays aims to create limitless opportunities for children to move, communicate, and create lasting friendships.
VGM's donation: $5,000
Visit their Facebook page to learn more: https://www.facebook.com/groups/5621256151229916